Last Updated on 20 December 2022
Almost seven years ago, the city of Rasht was listed by UNESCO as a creative city of gastronomy, and the reason for this is the presence of a rich food culture and a large variety of local dishes in Rasht. It is a city that relies on its rich history and culture to protect its traditions and that continues to maintain and introduce its local dishes. Indeed, having a Rasht trip and not eating the Torsh kebab and Baghla Ghatogh of the Rasht would be a shame! For a long time, the people of this city have created such a pleasant taste by combining the simplest foods that people from all over the country and even the world travel to this city nowadays to try the best foods in Rasht in addition to the Rasht attractions. The local dishes of Rasht city are numerous and have many varieties.
Eating habits of the people of Rasht
For the people of Gilan, food is very important and they care about it so much. One can see this importance in the variety of foods in this province, especially in its capital, the city of Rasht. Moreover, it is because of the climate and weather in this region, which has blessed this land with a variety of flora and fauna, and this variety has impacted the formation of the people's food culture. Having different plants, chicken, and sea animals allows the inhabitants of this land to create a wide variety of dishes.
Let's not forget the various delicious spices such as pomegranate paste, garlic, and olive oil, which are included in most Gilaki dishes and add the label of authenticity to the best foods in Rasht. Garlic, eggplant, and tomatoes are some of the most common ingredients used in the preparation of dishes. Gilan rice, famous all over the world, is most often on the table instead of bread and is usually prepared in the form of Kateh.
Moreover, one of the most important results of the healthy diet and food diversity in this province is the increased life expectancy of the residents; who have the highest life expectancy among Iranian cities. Such food diversity has been accompanying the tables of Gilan people throughout history, so much so that it is amazing that travelers who traveled through this region have mentioned the best foods in Rasht and Gilan and their characteristics in their travelogues. In the rest of this article from Navaran magazine, we are going to introduce you to seven of the best foods in Rasht, so if you are looking for things to eat in Rasht, stay tuned.
Kateh Kebab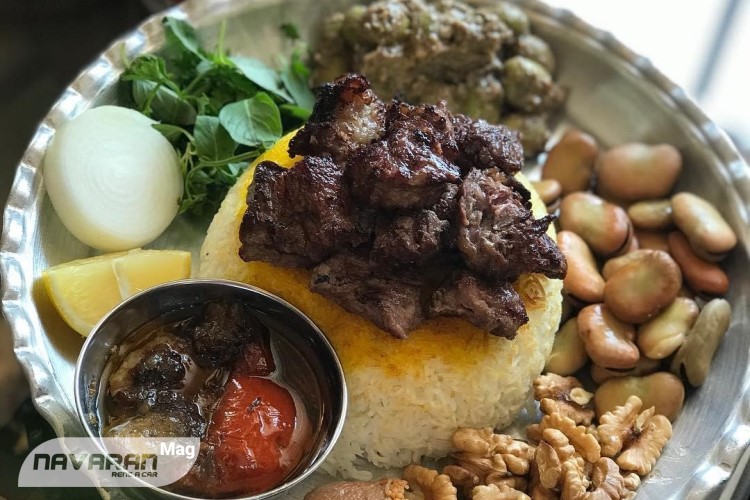 Kateh Kebab or Rashti Pola Kebab is considered one of the most popular and well-known best foods in Rasht. To prepare this delicious dish, the people of Gilan use veal, to which they add yogurt, olive oil, and onion juice to enhance its flavor. For about 24 hours, the meat will rest with these ingredients and then it will be grilled. They always serve this delicious dish along with a plate of tasty food such as raw beans, cucumber, fish eggs, and of course, Kateh. Below we will show you the easiest way to prepare this delicious dish.
First of all, you have to grate the onion well and squeeze its juice. Mix the minced meat with the onion mixture. Add chickpea flour with salt, pepper, and turmeric to the ingredients and mix well. Continue to knead the ingredients well for 10 to 15 minutes. Transfer the mixture to a closed container and place it in the refrigerator for half an hour.
After the specified time, heat the pan and pour a small amount of oil. Place the meat mixture in the pan and spread all the ingredients well on the surface of the pan with a spoon. Raise the heat and place the grilled meat in the pan to cook. Once the ingredients have hardened a bit, reduce the heat and slice the meat horizontally with a spoon. At this point, close the pan again and allow the kabob slices to turn golden brown.
After one side of the meat is cooked through, flip it over so that the other side is also well-cooked. Now put some sumac on your kebabs. Now cut the potatoes into slices and fry them well after you have washed them. Then add some olive oil and salt to the rice. The kebab is ready, put it in the dish you want and decorate the dish with potatoes. In conclusion, we hope you will enjoy the delicious taste of this local Gilani dish.
Among the restaurants in Rasht that has more than half a century of experience in cooking kebab is Jahangir Restaurant in Rasht, which serves the best food in Rasht to its customers. It is truly one of the Rasht best restaurants and a lot of people in Rasht love just love it. This restaurant was opened in 1964 and since then it has been famous for its Kebabs. The restaurant also has a large hall for party reservations. Other best foods in Rasht are also cooked in this restaurant, which you can eat if you don't want kebab.
Fesenjan Stew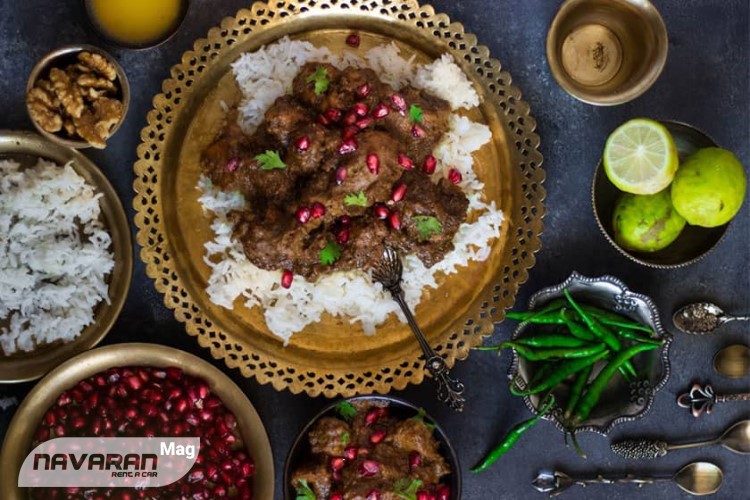 Fesenjan stew is one of the most famous and best foods in Rasht, prepared at weddings and ceremonial occasions. For this dish, chicken or duck meat is used. To make this stew, ground walnuts are cooked together with pomegranate paste, and then chicken or duck meat will be added until it boils and the stew settles well. For the stew to be even tastier, it is necessary to give the walnuts enough time to add oil, and sometimes a piece of ice or a small pumpkin is used for this purpose. What is interesting to know is that in the past, farmers used to bring this delicious stew to their masters as an offering, along with rice and other gifts.
Usually, both chicken and duck are used to prepare Rashti or Gilani Fesenjan, however, most people prefer to prepare Fesenjan with chicken. It is best to use chicken thighs or breasts for preparing Fesenjan stew. Please note that chicken should not be chopped when preparing this stew. In the following, you will learn how to prepare sour Fesenjan with chicken.
In the first step of preparing Fesenjan Rashti stew, you must add some oil to the pot. Then, add the chicken pieces and fry the chicken in the oil. Just the color of the chicken should be slightly golden and the surface of the chicken should be fried. Once the chicken is fried, you should add black pepper, salt, turmeric, pomegranate paste, walnuts, and tomato paste to the chicken pieces in this step of preparing one of the best foods in Rasht. Stir fry a little and then add a little water to the pot. First, increase the heat of the gas until the water boils. Thereafter, reduce the gas heat and put the lid on the pot, and let the stew boil slowly.
Fesenjan Stew needs to be cooked slowly for a few hours so that it fully cooks. During this time, you may add a little cold water every time the water in the stew is reduced. Doing so will make the Fesenjan stew oily. In the end, taste if everything is good and add some pomegranate paste or salt if needed. For cooking Fesenjan Rashti stew, you can put the ingredients for the stew in the pressure cooker and cook the stew in the pressure cooker for 45 minutes. After that, put the pot on the stove for a few hours so that the stew can be fully cooked and ready. You can find this delicious dish, which is one of the best foods in Rasht, in almost all restaurants in the city.
Anar Bij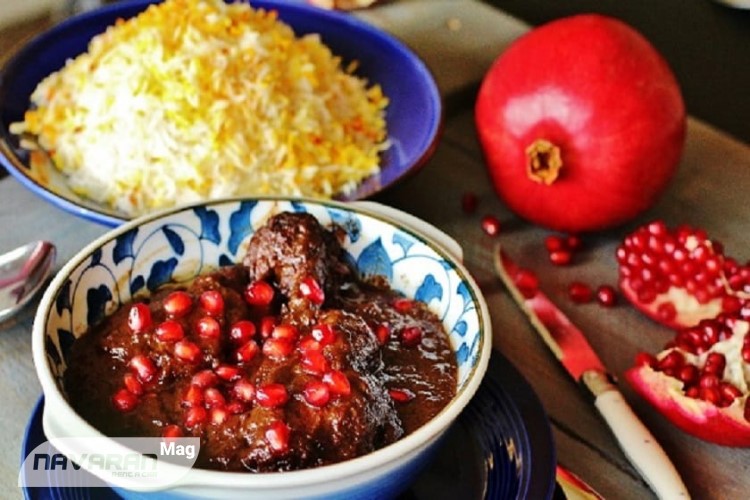 Anar Bij, Sange Khoresh, or Sabzi Fesenjan is a very unique dish that is very similar to Fesenjan. This is a dish prepared with meatballs, Fesenjan ingredients, and aromatic vegetables whose aroma and taste are sure to leave you blown away. Aromatic vegetables including parsley, leek, khalvash, and mint are fried together with onions and ground walnuts, and alongside are added sour pomegranate paste and pomegranate juice until they are well mixed and then the meatballs are added to the stew. Along with Iranian rice, this delicious stew will leave one of the most unforgettable tastes in your memory.
Anar Bij is among the oldest authentic best foods in Rasht that has been prepared in Gilan province for a long time. You may find it interesting to know that Anar Bij stew is one of five dishes of Gilan province that have been registered nationally. This dish is cooked on various occasions during the pomegranate season and in particular on Yalda night. Meanwhile, pomegranate stew is also famous by other names such as Deraz Ghatogh, and Fesenjan-Gilani stew, and in fact, this stew is a summer Fesenjan stew. As you may know, Fesenjan has a very hot taste, and most people don't want to eat it in summer.
One of the best restaurants to eat at Anar Bij is Shore Coli Restaurant in Rasht, which is very popular among travelers and residents of Rasht. There is a very pleasant atmosphere in the restaurant and Iranian vases are used for the design of the restaurant. The restaurant's dishes are made of blue clay. This restaurant is located near Shabestan Hotel and Ordibehesht Hotel, so a lot of hotel guests visit this stylish and attractive restaurant.
The doors, windows, and curtains of the restaurant are also blue. Considered one of the best restaurants in Rasht, the taste of its delicious food has captured the heart of every tourist. If you wish to try the best foods in Rasht, you can easily order every tasty local Gilani dish in this restaurant.
---
Read More: 7 Interesting Places for a Day Trip from Rasht by car
---
Baghla Ghatogh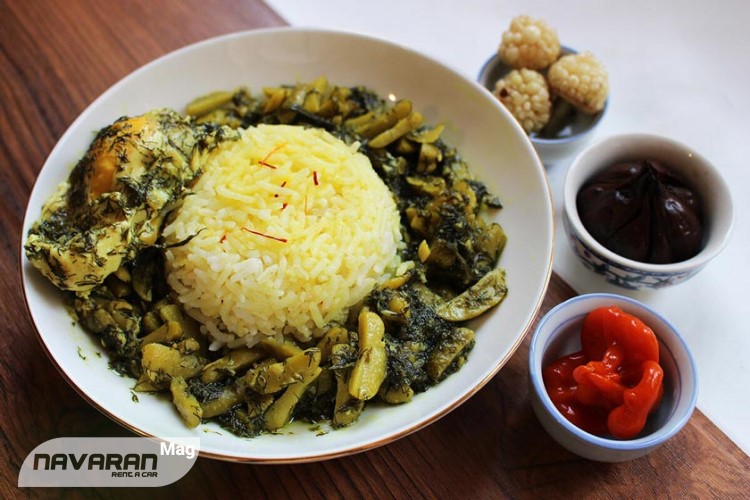 Perhaps you have heard the name Baghla Ghatogh many times! This delicious and light dish is considered one of the most popular dishes in Gilan and one of the best foods in Rasht and there is hardly anyone who doesn't like it. There is no meat used in this stew, and since vegetables have a very good place in the food culture of the Gilan people, they can be considered a great choice for vegetarians. To prepare Baghla Ghatogh, Rashti beans (you can also use broad beans, garlic, dill, and various spices are used, and eggs are also added when cooking.
The original way to serve eggs is to beat the egg into the stew until it is cooked. It takes less than an hour to prepare this dish, and most Gilan residents serve it with Kateh rice. You may wonder what Rashti beans are. Rashti beans, which are named "Pach Baghla" in Gilan, are a type of local broad beans that resembles green beans and can only be found in Gilan markets in spring and fall. Baghla Ghatogh may be found in most local restaurants in Rasht and Gilan province.
Torsh Kebab
Torsh Kebab is believed to be the original food of Rasht and is one of the most famous traditional and best foods in Rasht. When traveling to the city of Rasht and going to the restaurants there, you can find this amazing dish in all the restaurants. To make Torsh Kebab, lamb or veal is first marinated in a special sauce. This special sauce for this dish contains onions, ground walnuts, pomegranate paste, garlic, and pomegranate juice. To prepare this delicious dish at home, you need to first marinate the meat in the special sauce for some time and then put it on a skewer and grill it. It is better to eat this local dish with rice.
Without a doubt, one of the best restaurants in Rasht where you can eat Torsh Kebab is Moharram Restaurant. Renowned as one of the oldest restaurants in Rasht, Moharram Restaurant is located on Imam Khomeini Boulevard, and the quality of its food has become so famous among the city's residents and travelers that they line up in front of it every day! When visiting Rasht and looking for a restaurant that offers the most famous Gilani dishes, Moharram Restaurant will satisfy you with a varied menu of Iranian dishes and genuine Gilani dishes including Torsh Kebab. Baghla Ghatogh, Mirza Ghasemi, and Moharram Restaurant's smoked rice, along with other kebabs.
Morgh-e Torsh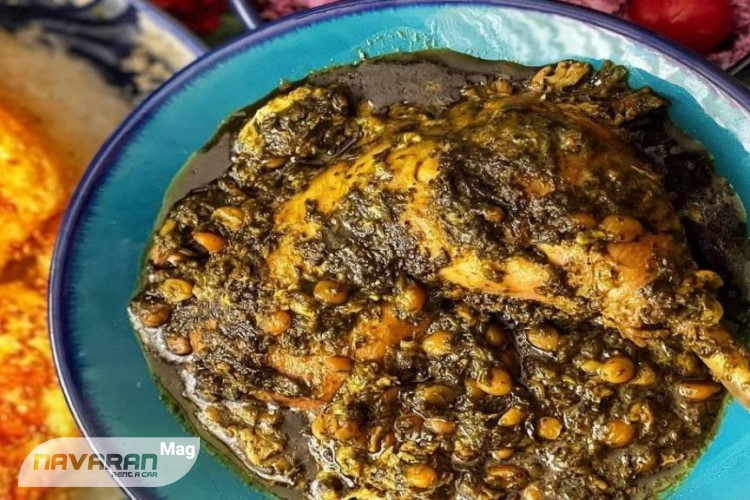 Morgh-e Torsh is one more of the best foods in Rasht that has many fans. You will need chicken, garlic, onions, split peas, eggs, oil, orange juice, salt and pepper, and vegetables such as parsley, cilantro, dill, and chives to prepare Morgh-e Torch. Fry the chicken in oil until golden brown. Sauté the onion in oil, then add vegetables, garlic, and orange juice. Cook the chicken in a pot with split peas, salt, and pepper for half an hour. Beat the egg with a little salt and pour it over the chicken. Finally, add the orange juice.
When you are looking for a restaurant near the Manzarieh district of Rasht serving traditional dishes, which include Morgh-e Torsh, we recommend you to visit the 5-star Kadus Hotel in Rasht, which is one of the best Rasht hotels, which features a variety of delicious traditional dishes at the Kadus Hotel's Shekam al-Maluk restaurant. This restaurant is located in the hotel area and its interior is a combination of traditional and modern architecture. Featuring live music and a wide selection of traditional Gilani dishes, Shekam Al-Muluk has emerged as one of the most popular restaurants among the people of Rasht and tourists. You can taste a variety of Gilani dishes in this beautiful restaurant, including Baghla Ghatogh, Gamaj Kebab, and other best foods in Rasht.
Mirza Ghasemi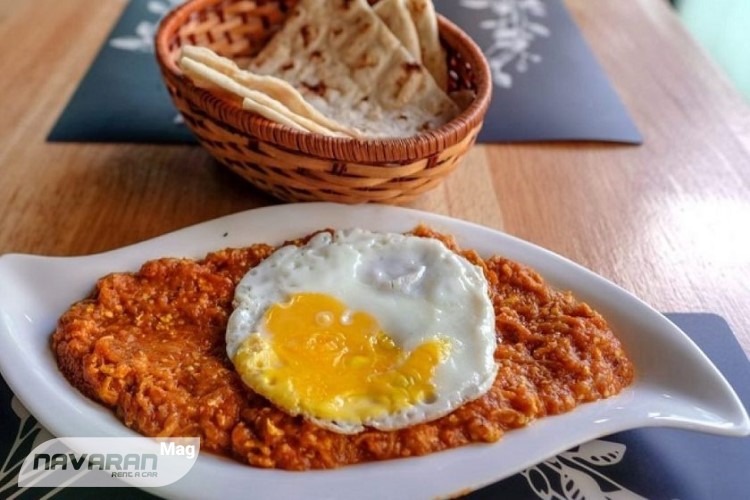 The majority of people in our country are well acquainted with the best foods in Rasht. If anyone is not familiar with the dishes of this province, they are always aware that Mirza Ghasemi is a dish from Rasht. Some people believe that the best food in Rasht is Mirza Ghasemi. Perhaps it is interesting for you to know that Mohammad Ghasem Khan Vali, the ambassador of Iran to Russia and governor of Gilan province during the time of Naser al-Din Shah Qajar, invented this delicious dish.
He loved to cook and create new dishes. Upon his return from Russia, this dish became popular in the Gilan province and attracted many fans. Mohammad Ghasem Khan Vali named this delicious dish Mirza Ghasemi about his name. Mirza Ghasemi is a delicious blend of grilled eggplant, eggs, lots of garlic, tomato paste, and salt. You can eat this dish with rice or with bread. Another old restaurant in Rasht that serves very delicious Mirza Ghasemi is Delijan Restaurant. For its warm and friendly atmosphere, it is considered one of the best restaurants in Rasht. It has preserved its antiquity.
Conclusion: the best foods in Rasht
In this article from Navaran Magazine we have presented you with seven of the best foods in Rasht, we have talked about the ingredients needed to prepare them and we introduced you to the best restaurants where you can eat these dishes. We have to mention that the variety of dishes in Rasht and Gilan province is very big and we have only introduced some of the best foods in Rasht. What do you think about these dishes? Have you ever had the experience of eating Rashti foods? Please share your thoughts with us.
If you too are craving the best foods in Rasht, we recommend you take a trip to Rasht and try the authentic taste of Rasht's local cuisine. If you need to rent a car in Iran or you need car rental in cities of Iran to travel to Rasht, you can easily use Navaran's car rental in Iran by visiting Navaran's website or application. Being one of the best car rental Rasht providers, it offers you all kinds of car models at easy terms and without the need for checks and promissory bills.